The Free Spirits of While Horses. Eduardo Navarro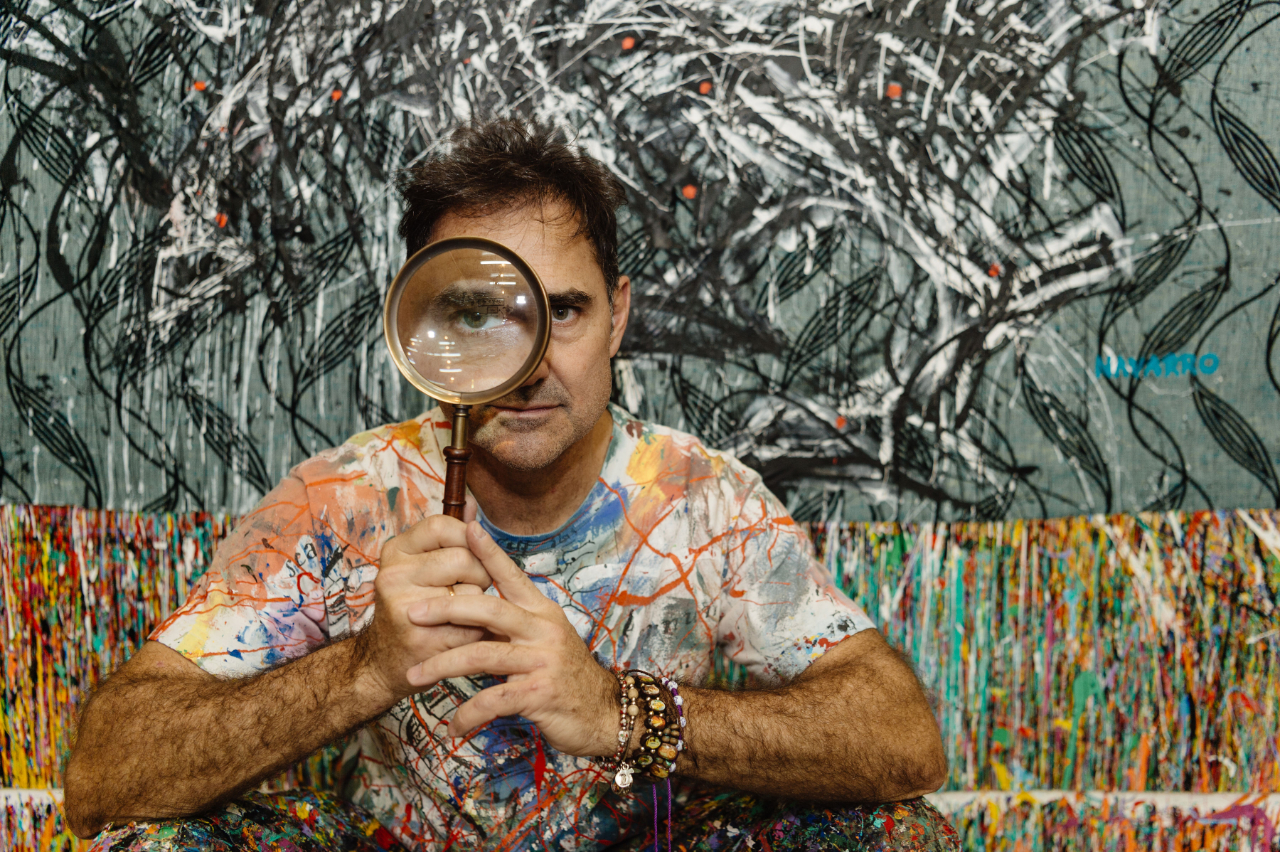 Eduardo Navarro at his studio in Panama City. Photo courtesy of the artist.
Eduardo Navarro is one of Panama's most outstanding contemporary artists with the distinction of also having developed a successful life as an entrepreneur. He studied Mechanical Engineering and Business Administration, achieving a broad notion of the relationship between art, science, and economics. He is actively involved in the banking and oil industries and is a member of the Board of Directors of the Panama Canal Museum. With an artistic career spanning more than 50 years, Navarro has established himself within local and international cultural scenes while connecting with new generations of artists through collaborative works, new technology, and other disciplines.
1- You descend from a Panamanian family where the love for nature and a progressive social vision prevails. When did you developed interested in art and "formally" decide to become an artist?
I've been drawing since I was two years old. I started painting in a more formal setting a little later, at 8 or 9 years old, and at 14, I had my first individual exhibition. So, if you do the math, I have been painting for more than 50 years.
I've been a lover of nature ever since I was a child. I think that coexisting with nature is essential for mankind's existence. That is why all my hobbies, such as aviation in the sky, sea diving, mountain skiing and other outdoor sports, take place in nature.
2- In all the years that I have known you, I have been able to perceive that you have a genuine passion for science, especially for airplanes. How do you combine the scientific and artistic scenarios and how do they complement each other in your work?
Yes, I am very much attracted to the sciences. Aviation is one of the things I am most passionate about.
Aviation fascinates me because I get to disconnect; it requires the use of all 7 senses. You are playing in three dimensions; you are going up, down, and everywhere. I flew my ultralight aircraft for 9 years, and I remember spending time watching the clouds and their shapes. I flew near the water, through the mountains… I decided where I went every instant; I flew all over Panama. It was like gaining a kind of genuine freedom. I would turn off the radio and fly by myself, and I would land over the rivers, lakes, and seas of Panama. In general, it gives me a lot of freedom, and that gives me happiness, which converts into a positive force towards creating.
Science is in most of my works. What I do is experiment continuously (so as not to get bored), working with different materials, processes, elements, and concepts throughout the creation process of new works.
3- Not having studied in art academy has contributed to your free spirit with a neo-expressionist and action painting style. Do you consider that when you paint, you prioritize instinct and spontaneity, or do you also calculate and analyze the composition more formally?
Not having an academic, artistic background, I don't have a line, and I don't have any barriers. What I have, I have been creating and forming for myself as a self-taught. I have been learning sometimes the hard way, making mistakes, and going to galleries, and museums. Seeing what the universal masters have done and have not done, asking to other artists, reading, researching and travelling. I consider that my training has been complete and, to my satisfaction, is the most important thing.
Aside from not having any formal academic training, I connect with the collective subconscious of humanity because I don't really know where my inspirations or ideas come from, or even where do I come from, but it's something bigger than me. It comes from above, from a superior entity that passes through me. I have the luxury of accepting random inspirations and it fascinates me because the value I find in them when they come together, and certain synergies are conjugated is priceless. It's more fun that way.
I don't calculate, everything happens by itself. Even if it seems to be thought out.
Eduardo Navarro during an action painting in collaboration with UBS Bank, Panama City. Photo courtesy of the artist.
4- When did you started painting horses, and why this animal?
I have been painting horses since 2001, so for 22 years. Why the horse? I have been riding horses since I was three years old, almost all my life. I am very attracted to this animal. Initially, I was once asked to paint a horse, and I didn't paint them then, so I started to soak myself in books about the anatomy of the horse: bones, skeletons, movement, muscles, and everything that could give me information. When I started painting horses, I realized that I could not stop. I have great respect for equines, not only because it is an animal that has contributed to the development of human civilization since its beginnings and in different areas such as transportation, wars, conquests, and heavy work. For me, it is a noble animal, strong and beautiful. I admire them very much, and what I paint is not the animal per se but the free spirit of wild horses.
Horse, acrylic and mixed media on textile. Photo courtesy of the artist.
5- Visiting your studio is an unforgettable experience, where objects and paintings reveal your high level of curiosity. How is a routine workday in your studio like?
After coffee, I start looking at what I'm working on and the processes I left germinating the day before. I usually leave things on-going, and I'm super motivated to come see the status of each piece. The nature of the studio motivates me to create and form new things; imagine that the studio represents a nucleus with electrons spinning and buzzing all over the place, and it is impossible for me to ignore them. Hence my fascination with this space.
6- You are a multidisciplinary artist. Not only do you paint, but you also draw, make sculptures, create performances, and, more recently, NFTs. Do you think it is important to be open to change to stay connected to the artworld?
Yes, since I don't have an academic background, I don't have barriers either. Some time ago, I realized that an artist should cross borders. In the case of NTFs, you must investigate what it is and try it, and if you don't like it, then you stop with it. I've done quite well daring to play with new things, changing mediums and disciplines; but mainly because each area somehow builds on the other. The mixture and conjugation of all the disciplines are what ultimately form a wide-ranging artist.
7- You have received important international awards and residencies, such as the Bronze Award at the VII Osaka Triennial in Japan (1994) and the Unlimited Residency in New York (2019), U.S.A. How was your experience in both events, and what has been the impact of these on your career?
Both events were a surprise and very pleasant, I was not expecting either. The Japan event took me to another level and Unlimited Residency was the same. I was the first Panamanian to be invited, and that's when I had to leave my comfort zone and decided to do the Cocoons series. The curators were very happy with the concept and the depth of the proposal.
These awards have helped me to create exhibitions abroad and to advance my career. They elevated my resume, and I am very grateful for that.
Cocoons series. Photo courtesy of the artist.
8- Your works are part of renowned art collections around the world, such as the Fort Lauderdale Museum of Art, Florida, UBS Bank, the private collection of Japan's Princess Sai Takamado, and the Oppenheimer Collection in South Africa, among others. How important is it for an artist to place his work in collections, and what has been your biggest challenge in achieving that?
My goal has never been to place my work in collections, that has happened organically. However, I have realized that they represent an important reference for my career since it is a special recognition from them to acquire one of my works for their private collections. I feel honored to be part of each and every one of them.
9- What do you consider to be your greatest contribution to the art community in Panama?
One of my contributions has been to be super open to young artists. Talking to them and helping them in any way I can. Another contribution has been the workshops with children I have carried out for many years in El Valle (a town in the countryside) and schools in Panama City, Arraijan, San Felipe, and several other places, during which we got rid of the student´s fear of painting.
10- You recently participated in a renowned event in Panama that involved action painting and the launch of your NFT collection. What projects are you currently working on, and what are your future aspirations?
With UBS was amazing, the event was very well organized. From a conceptual freedom I created an action painting performance that the public highly enjoyed.
As for future projects, the most present is my next solo exhibition at The Fire Station in Doha. After two years of preparation, we are in the curatorial phase, the title of the exhibition is "The Free Spirit of Wild Horses". Soon I will be able to share more information in my social media.
11- Through which platforms and media can the art lovers enjoy your work and contact you.
Instagram @eduardonavarroq
Webpage www.eduardonavarroq.com